---

Have you seen the various award icons flung about the Web on this page or that? Wish you could have one on your page, too? Well, now you can! Since THE CORPORATION doesn't have the time to come review your lousy little site, now you can review your own site, choose a fun icon from our Icon Gallery, and post it on your page! All we require is that you link the icon back to this gallery at: http://www.thecorporation.com/icon/icon.html
---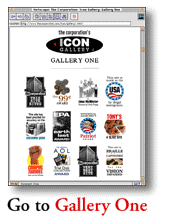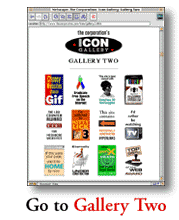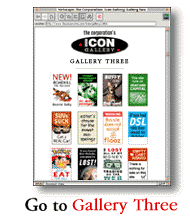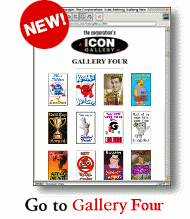 ---
DOWNLOAD INSTRUCTIONS:
Go to one of the Galleries above. Click and hold on the icon you would like to post on your page. Choose the "Save this Image as..." option from the pop-up menu. Save the image to your hard drive, then incorporate it into the HTML of your page.

Viewers of this page are licensed to copy these icons and post them on their own page provided they link the icon back to THE CORPORATION. And, man, if you don't link back to this site ... boy, you just don't want to know what's gonna happen. Big, big trouble, that's what!