My First Cigarettes
---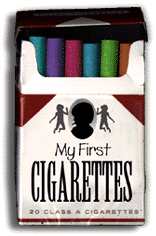 In an effort to stop underage smoking, tobacco companies from all over the world have banded together to create a "non tobacco" alternative for youngsters that they can buy freely through this program. With each pack of 'Lil Smokey brand youth cigarettes kids buy, we will hold a real package of cigarettes for them until they reach legal age. Imagine youngsters bragging to friends about how many cartons of cigarettes they have waiting for them, all the while learning how to SMOKE WITHOUT DANGER to them (or their reputation)! With these harmless* cigarette alternatives, even young children can feel "included" in adult lives.

An added attraction is that with these cigarettes, adults can have a joy previously denied them by the "forces that be". You can now TEACH YOUR CHILDREN HOW TO SMOKE! Children no longer have to hide these kiddie cigarettes from anyone, so they will no longer have to learn to smoke in dirty bathrooms with unsavory characters. You can teach them to be healthy, responsible smokers. You can TAKE CONTROL over the smoking process and make your child's future a safe and happy one!

(My First Lighter also available)








Educational Video Series
---
Making these videos available freely to schools and institutional learning facilities of all kinds, the tobacco industry is saying WE CARE about your children. WE WANT YOUR CHILDREN to be properly educated about our world.
Going a step beyond Whittle's brilliant "Channel One" The 'Lil Smokey Video series is created by some of the best ad men (and women!) in the business. No child will miss a minute of History, Science, or Literature as these fast paced mile-a-minute romps propel children through the hallowed halls with the high octane they expect from today's modern entertainment.
But don't take OUR word for it... Listen to what these fine educators have to say** about the Lil Smokey Educational Video Series!
"These tapes are miracles. Immediately after the tape 'Southern History' had stopped every single child in the class was passionately discussing the Deep South and her rich history. I can't thank you enough. Every date and concept in that tape was burned into their impressionable young minds through tricky subliminal editing. I didn't even have to give a test. As a side benefit, the class was obviously stunned by the cruelty of the old plantation owners and was amazed at how modern and efficient the growing of tobacco has become over the years; not to mention thankful of how easy it is in this day and age to access quality tobacco! Thanks 'Lil Smokey!"

---Carson Ogen History Teacher, Drake School, 5th Grade.

"I am very impressed with the Lil Smokey science tapes. The research was very thorough and they used concrete real world examples to make complex scientific concepts come alive. For example, the chemistry tape which used an ordinary cigarette as a jumping off point for exploring many many complex chemical compounds really stunned the class. Most kids today don't realize how much science goes into a simple thing like a cigarette. I think that after that tape they really got an appreciation both for science and for how extraordinary the real world can be. Even something as "simple" as an ordinary cigarette. Incredible. I don't think those kids will ever look at a cigarettes the same way again. By the way, the "Combustion: Science Up In Smoke" tape featuring The Cigar was also very excellent. Keep up the good work 'Lil Smokey.

---Jack Lewless Science Teacher, Tolland High.
'Lil Smokey Book Series
---
This series for little ones has captured hearts and minds all over the world. These wonderful new stories have been created for children living in the modern world. Join Lil' Smokey and friends as they entertain and teach your child important life lessons. Look for them soon in the classroom!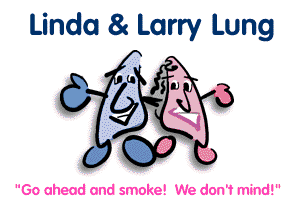 Sample Titles

How Maggie Became Cool and Got a Date
Lil' Smokey's Greatest Hits (if you know what I mean)
Linda and Larry Lung in: Coughing Is Fun!
Mommy and Her Cancer
Nice Mister Smokey Head and the Mean No Smoking Sign
Gorillas in the Smoke
"C" is for Cigarette
These samples are just a few of the wonderful programs now being created for your children by the Tobacco Industry Lobby for Youth Interests. We're looking out for your children.

*smoking is bad for you it will kill you it has been proven over and over and over again, if you smoke you will die faster and uglier. Now that we've given you the totalitarian state regulated line of crap, we urge you to PLEASE join our fight for free speech. The Government could be comming for YOU NEXT! Please help.--- 'Lil Smokey

** all endorsements were paid endorsements